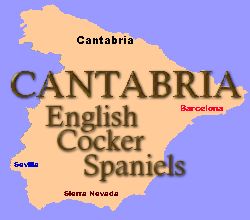 ---
Val Schuetze
Victoria, British Columbia, Canada
---
I chose my kennel name, CANTABRIA, after the province in northern Spain where I bought my first English Cocker Spaniel in 1989.
She wasn't what would be considered show quality, but her eccentric and typical English Cocker character convinced me that the ECS was the breed for me.

I returned to Canada and leased a show quality English Cocker female from a friend and bred my first litter, in hopes of obtaining my first conformation quality ECS.