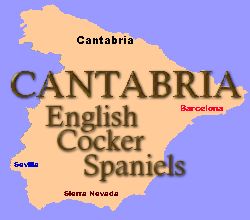 ---
Val Schuetze
Victoria, British Columbia, Canada
---
Morgan

"Morgan", aka Cantabria Angel of Golden Gait MX, MXJ, has been waiting at home for her show debut to arrive, when she is ready and has good coat. She is maturing into a very lovely girl.
In the mean time, her devoted owner, Deb O'Crowley, has been training her and competing in agility events.
Morgan has shown remarkable speed and ability, moving up very quickly in the levels of competition. She's now officially Cantabria Angel of Golden Gait, NA, NAJ, OA, OAJ, AX, AXJ, MX and MXJ titles so far!
As you can see from her pictures, she is very focused and seems to really enjoy her chosen sport! Thanks, Deb, for all your hard work.
We're looking forward to seeing the Ch. before her name soon too!
Morgan is now the mother of a lovely litter of young agility stars that we hope will also excel in the breed ring. Two of the pups have stayed on with mom, young Duncan and his sister Ciara."