When Chili went home to NC to live with Mindy, we agreed that when the time was right that I would get an orange roan pup to take her place. I had a choice between two litters and was esp. excited about pups from a little orange girl named Ch. Faerytails Pixie Dust. She was bred to a blue and tan dog named Ch. Legacy's Kaleidoscope and whelped a litter of boys except for one BLUE roan bitch who was rather unceremoniously tagged Skunk because of her appearance at birth. She looked awfully cute, even if she was the "wrong" color, so I decided to take her in trade for Chili. She made the long trip from New Hampshire without any problem and took up residence with my solids.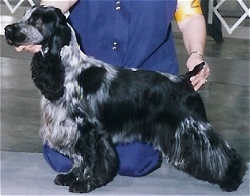 Skunk finished very quickly in Canada, finishing with a five point win at the big sporting dog spectacular the day after the Canadian Natl. Spec. where she was RWB.

While Chili is here in Canada with her pups, Skunk is down with her co-owners Mindy and Tracey and now has two major wins, one four point and one five point. She just needs singles now, but who knows? She seems to like the big wins better!